SHUTARO NOGUCHI
"Sun Sai Gai 2" CS
SL-070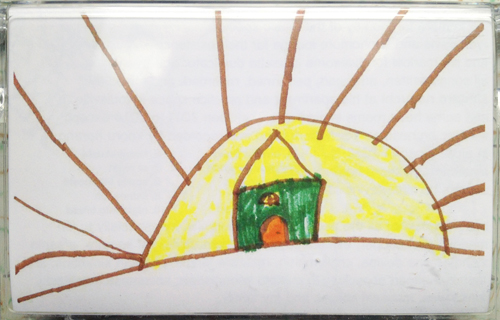 &nbsp
&nbsp
$5.00


"Mamemaki" from SUN SAI GAI 2
"Pan! from SUN SAI GAI 2
"Sun Sai Gai 2"

Cultural differences sometimes make communication very difficult due to lack of understanding of tiny things and the way people in a specific society think in their daily life. Basically information are less shared between people in different places or societies. At the same time, however, sometimes there seems to be common things you might realize when you watch foreign movies dealing with something like fear, depression, emotion, happiness, and maybe identity.

"Sun Sai Gai 2" is musically a production-based work with multi-layered free-wheel arrangements but it's almost like overwhelming that fact by an organic sense of human that the music itself is holding. The album is not "moment-oriented" album but definitely a collection of a lot of "moments" piled up. Having the culture of blending various musical genres and elements like Japanese popular music, his music carries 2000's indie music in an organic way that can work in a context of experimental music weirdos, such as 8-minute organ reggae with old rocksteady's wistful melody, "Pan," shoegaze-ish guitar with complex chords and danceable latin beats of "Nasu No Yoichi," imagining the feeling of Yoichi, (who is existed as an expert archer samurai and had to accept to shot down the target created by enemy with only one shot in the crowd of more than 3000 during war in order to maintain their dignity for the luck of winning, or seppuku) and a High Llamas-like song with Pajo-ish guitar solo of "Louisville, KY" by him in a loneliness in Kentucky telling about broken heart with helpless voice. Although some lyrics are based on Japanese old myth and folklore, the themes are very universal and common (english lyrics sheet comes with the tape). Not having a great voice nor great musicianship or permanence skills, the album is forgiven and the music are forgiving anything, and which maybe is a connection to him that played with improv/free/experimental figures on his Japan tour.

After spending 4 years in Muscle Shoals/Florence, Alabama, he moved to louisville in love with music of Pajo. After collaborating with a couple of bands in town, K Tranza which includes former members of Instant Camera, Opposable Thumbs, and New Mother Nature, and also Another 7 Astronaut which had members of Sapat, and long before he started playing shows of his one-man loop pedal band in 2014, he started writing songs. The collection of the songs were mostly recorded by himself alone in his apartment, and sometimes in a hotel of middle of nowhere in OH as the title, "Sidney, OH" mentions, and capturing his lonesome and trivial moments, that are easily forgotten and repeated everyday, or maybe come only once in your life. I think it's all straight now, thanks. Here are those photos. I ended up picking a lot, but I think they each kinda help paint the vibe of the process a little better.