John Wesley Coleman III / Gary Stewart
"Oh Woman" / "Ramona"
SL033 7"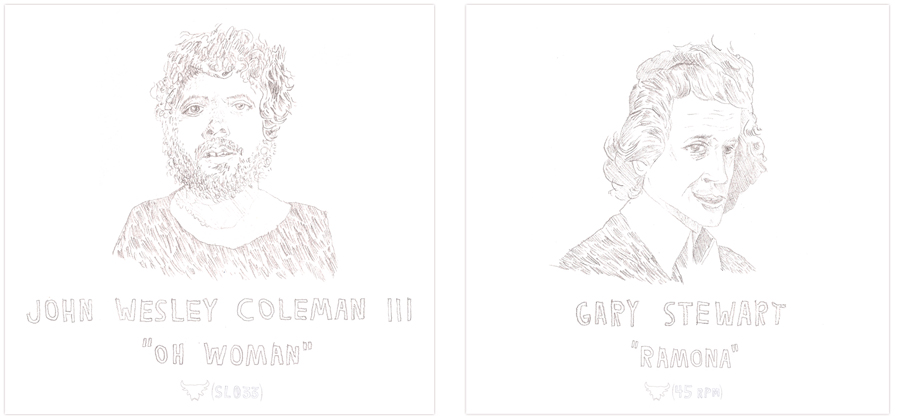 &nbsp
&nbsp
$6.00


John Wesley Coleman III - "Oh Woman"
Not long ago, I had the distinct pleasure of getting to know a unique Texan by the name of John Wesley Coleman through a mutual friend of ours, Dan McGee (of the Spider Bags). I think I briefly met Wes when (his other band) The Golden Boys played our Cropped Out festival in Louisville last year, but the first time I really hung out with him was at his apartment in Austin this past November. My band needed a show and a place to crash. We barely knew each other, but he said even if I were a child murderer and Dan McGee said I was an all right guy, he'd have no trouble seeing the best in me, so he hooked it up and had us over. We sat around his house drinking beer and watching movies before the show, shooting the shit with Wes and his girlfriend. Being that we were from Louisville and enjoyed country music, he asked us if we were familiar with Kentucky-native Gary Stewart. The name sounded familiar, but none of us really knew much about him. He played us a cassette tape of the artist (in retrospect, I believe it was his 1988 "comeback" record Brand New, the album on which Ramona was initially released). We thought it was really great. Wes told us all about the tragedy of Gary's career, his criminally underappreciated brilliance and the traumas of his personal life. How Bob Dylan once drove to meet him at a show, just to personally praise Gary for his work on 1977's Your Place or Mine. How he'd worked with the likes of Emmylou Harris, Rodney Crowell, Charley Pride, Allman Brothers/David Allan Coe- contributor Warren Haynes (who plays guitar on the track at hand), as well as Gregg Allman himself. And how after a roller-coaster career in country music (spanning over three decades) left his life with more valleys than peaks, including considerable substance abuse, the suicide of his sister, son, and several friends, and the unexpected, pneumonia-induced death of his wife and collaborator, Mary Lou, Gary ended things once and for all at his Fort Pierce, Florida home in 2003 by putting a shotgun to his own throat.

After we got home from tour, the music on that tape still resonated with me. It was a certain brand of outlaw/honky-tonk I'd heard a thousand times, but there was something different about Gary's ghostly howl. Sounding fragile and vulnerable, while at the same time, calloused and beaten. I got Gary's classic Out of Hand and played it relentlessly over the course of the fall. In January, I sent Wes an e-mail, thanking him not only for introducing me to the late-great country crooner, but also for the stack of his own recordings he had given me, including Bad Lady Goes to Jail (Goner, 2011), Steal My Mind (Certified PR, 2009), The Golden Boys' Electric Wolfman (Daggerman, 2010), and a handful of other assorted releases. I said I was stoked on all of it and that if he ever wanted to do a 7" or something, to let me know. He wrote right back saying he was down, that he had an idea and to call him on his girlfriend's phone. He asked if I'd be into obtaining the rights from Hightone (Gary's label from '88-'93) for a split 7" or sorts. He had just recently re-written and recorded a cover of Ramona (a George Harrison-sounding favorite of Wes') called Oh Woman with his buddy Vinnie Kircher (of Sup Pop potheads JAILL). Wes and his backing band laid down the track at Vinnie's place in Milwaukee on tour, but I guess everything sounded fucked up during the mixing process, so Vinnie went back in after they left and re-recorded all the instruments himself. Wes said Vinnie is really smart. I believe it. This single is a small-run, hand-assembled release limited to 300 copies on cold black vinyl. Album art/layout by Mikie Poland/AETHLETICS. Pressed by Palomino Records in Shepherdsville, KY, just a few hours from Gary Stewart's birthplace of Letcher County.