KAL MARKS
"Life is Murder"
SL-058 12" LP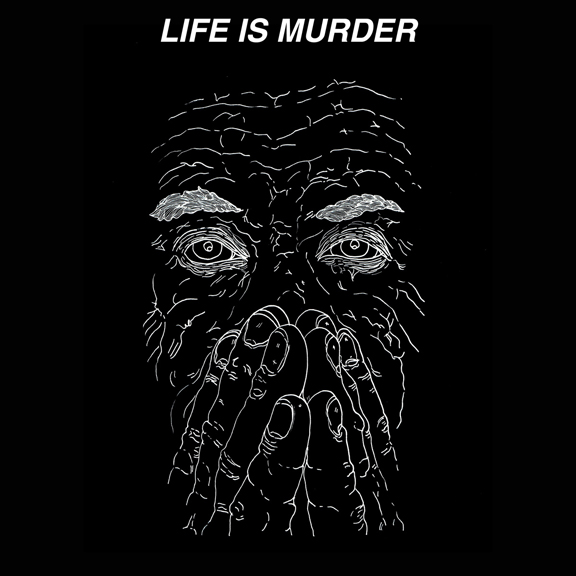 &nbsp
&nbsp
$13.00


"Where a River Starts and Ends"
"Life Is Murder"
Kal Marks is a band founded and fronted by a friend of ours named Carl Shane. He lives in Boston, which is where we first met. He opened one of the first shows my band played there (at a since-defunct DIY space called the Problem House) with a solo-set characterized by slightly aggressive yet fragile folks songs of what one might consider the outsider/"freak" pop variety. Daniel Johnston, Devendra Banhart, Espers, I don't even really remember. He played in the living room, instead of the basement with the rest of us. He kind of sang in a "voice," which was something I didn't hear too often, and rarely liked it when I did. But Kal was cool, and we kept in touch.

Over the years, we continued traveling to Boston and Carl's songs continued to get better. He gained control of his voice (it was never bad to being with), not just as an instrument, but as a tool. He formed a band to back him, which we enjoyed seeing. Solid group of players equipped with what we mid-westerners grew to know and love as the "Boston sound" (see PILE, Fat History Month, Speedy Ortiz, etc...each different, but cohesive in some sort of subliminal guitar tone of a way). Though the members seemed to come and go, leaving Kal in and out of temporary hiatuses and perpetual frustration.

I always looked forward to hearing Carl's new music as much as I looked forward to just drinking beers with him, watching other bands, crashing Harvard house parties, and telling jokes. Carl loves comedy (as much or more than music, I've always suspected). He's a funny motherfucker. You can hear it even in the saddest, realest moments of his music. Last time I saw him, we stayed up late in a kitchen, re-hashing both classic and not-so-classic SNL skits and stand-up material to both the enjoyment and exhaustion of our friends, laughing them to sleep and drinking ourselves awake.

At some point along the line, he found these two guys Mike Geacone (bass) and Nick Egersheim (drums, also of BIG MESS) at a party or under a fishing boat or something (I have no idea) and they became the band that would play Carl's songs as of the last time we performed together (my neck still hurts). They were also the band to perform and record the album at hand, "Life is Murder." And holy shit if this isn't one of the most beautiful, well-crafted, catchy, downright CRUSHING "indie rock" records of the past few years. With Mike and Nick behind him, Carl is on fucking FIRE. They all are.

Kal Marks made an evolution from the four-track to the first-floor to a full-band with their own deserved spot in the sunlight. We paid attention every step of the way, but this one wasn't something that we could even consider sleeping on until it "touched" us in the right way. "Life is Murder" grabbed us by the throat and calmly whispered "Look, motherfucker. We're here."

And while Carl might still be Bill Hicks, Kinison or Rickles at heart, his latest effort is no laughing matter. It's a culmination of all things good in contemporary "pop" songwriting -- the darkness, wit, and cosmic charm of a 20-something on the verge of erupting into an author's "next stage," taking with him what was learned and earned in every room of life's houses.